Tips For Brides
---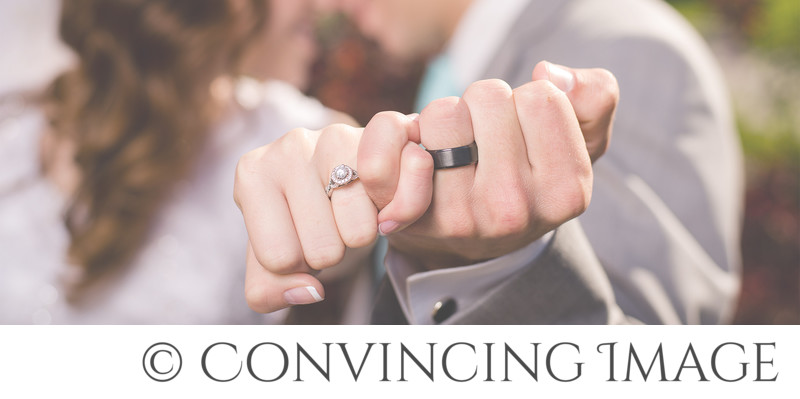 ---
Avoid small pinstripes that are close together. It can cause a strange looking pattern in your photographs (called moiré). Modern cameras are good at minimizing the effect, but it can still be a problem. While we can correct it in Photoshop, it may still be visible in enlargements.
If you normally wear your hair down, but are planning an updo for your wedding day, consider a style that frames your face. Brides who are used to having their hair down will often feel that their face looks too round when all their hair is pulled up in photographs.
Consider the time of day as you plan for wedding photographs. Morning and evening provide the best lighting for photographs.
When choosing a venue, decorating, or planning seating, consider lighting. Big windows are a photographer's/bride's friend! When possible, seat the bride and groom near windows. When using outdoor venues during times when the sun is high in the sky, place the bride and groom in the shade if possible.
Plan extra time for pictures on the wedding day. It's inevitable; someone or something will make things run late. Plan for it! In addition, family group pictures almost always take longer than the bride and groom expect them to take.
Consider a formal photo session with the bride and groom that begins with a "first look," prior to the wedding. It may buck the old tradition for the groom to see the bride in her dress before the wedding, but you will get spectacular photos, taken in optimal light, in a relaxed environment without time constraints of the wedding day. Bridal pictures are always better when the groom is present because nobody can make a bride smile like her man.
Determine your priorities first, then budget and plan accordingly (i.e.: photography, dress, venue, cake, dancing, etc.) Soon your cake will be gone, and you will find your wedding dress yellowed. Only photographs and memories will remain to share with your friends and family.
©Convincing Image